Employees involvement and development
Employees are the strength of our organisation, and thanks to their commitment and creativity, we can build a strong market position by implementing new solutions. Our priority is to build up a culture of safety and provide employees with the conditions for continuous development.
In our day-to-day work, we are guided by our organisation's four key values, which are the benchmark for all the activities we undertake.
The organisational values have already been with us since 2016 and form the basis of management. As an organisation, we continue to evolve while ensuring consistency. Therefore, the number of core values has been reduced in 2022 so that they are clear and unambiguously understood by all employees. This ensures that behaviours that are important from our perspective are clearly assigned to one of the values.
The Strategic goal:

Creating an organisational culture based on values.
Actions taken in the HR area
Development and communication of an
100% of the management staff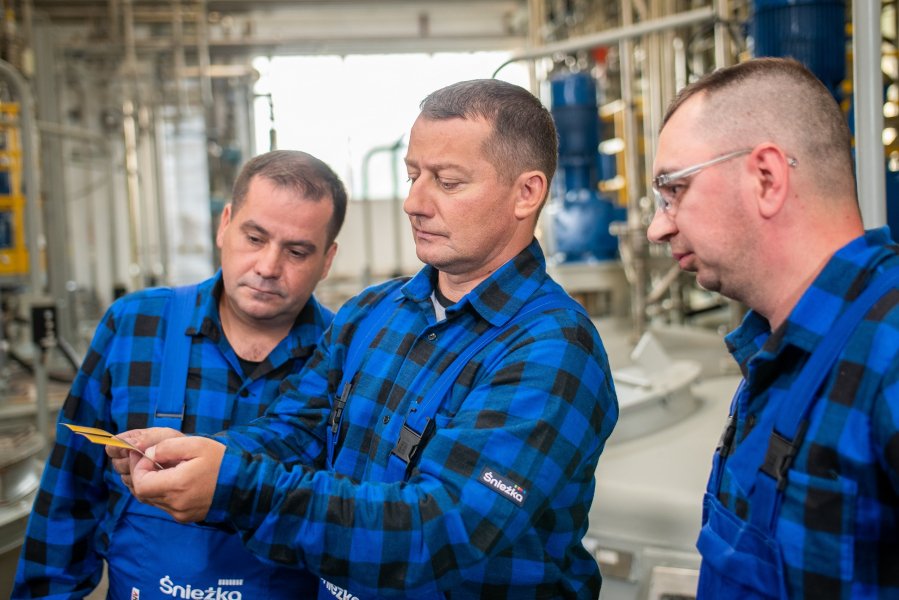 For years, we have recognised how a culture of knowledge sharing supports our employees in their development and adaptation to changing conditions. That is why we are implementing internal training solutions, which we have given a new, refreshed shape in 2022 with the creation of the Śnieżka Academy Internal Trainers Programme.

It allows you to use the competences of Śnieżka's team, where employees can share their knowledge and skills. Training covers a wide range of topics, including public appearances, contact with clients, conclusion of contracts, operation of computer programs used in various departments, presentation and visualization of data.
An internal trainer, apart from being an expert in a given field, must have knowledge about the company and know our industry well. He should also understand how our organization works, how individual departments cooperate and communicate with each other. Therefore, an internal trainer can be any person employed in the company for at least 12 months. The person conducting the training may allocate two working days per month for this purpose, and he will receive an additional remuneration for his work.
The name of the "Śnieżka Academy" programme was chosen as part of an internal contest for employees.
We value diversity – it is an integral part of both business activities and the personnel policy, which assumes equal treatment of all employees in all personnel processes (e.g. employment, promotions, development, access to trainings and benefits). At Śnieżka, we place special emphasis on equal treatment due to gender, age, disability, health, race, nationality, ethnic origin, religion, denomination, non-denominational nature, political belief, gender identity, family status, lifestyle, etc.
In our day-to-day work, we focus on building diverse teams, whether in terms of culture (e.g. international project teams), generation or professional experience (e.g. new employees and their support in the adaptation process by older colleagues experienced in a given position). In personnel decisions, we are guided primarily by the objective principle of competence assessment, and elements such as gender, age, etc. have no influence on them. We assume that diverse teams are more effective and achieve business objectives more quickly, hence we attach great importance to ensuring the versatility and diversity of teams at every level of the organisation, including in the company's authorities and among its key managers. In addition, we have implemented position valuation in the company and monitor the pay gap between men and women employed in similar positions. Our aim is to maintain gender pay comparability. In 2022, the adjusted gap was below 5%.
Employees Training Platform
iWIEM the company platform for employees, designed for educational and development purposes. Among other things, it includes:
educational materials about products in accessible, diverse forms,
materials supporting the implementation of new employees (a dedicated "Onboarding and adaptation" module),
e-learning for the development of sale forces competence,
audio-visual and substantive e-training in a field of cybersecurity and GDPR training,
all issues of Śnieżka's employees quarterly "W Kolorze" (In Colour).
In addition, the platform also gives access to the company library. This was created by combining the book collections of all our departments. This gives employees the opportunity for ongoing training in many areas, such as sales, logistics, marketing, effective communication and business ethics.
There are the principles of equal treatment of employees in access to all benefits apply in Śnieżka. This applies to non-wage, employer co-financed benefits. Their award is not influenced by a type of job contract or working hours.
Employees of the Śnieżka Group are free to exercise their parental rights, concerning e.g. maternity, parental and fatherly leaves.
For all women returning to work after maternity leave, we organise induction meetings in the form of an onboarding presentation so that they can complete their knowledge of what has changed in the company during their absence. In addition, we offer all mothers who decide to return to work no later than six months after the birth of their child/children a financial allowance to cover childcare costs. We also co-finance the cost of our employees' children's stay at a local nursery.
We run a cyclical programme of free preventive examinations for the inhabitants of the Sub-Carpathian region.
The last edition was held under the slogan "Śnieżka is a woman and cares for women". This slogan guided us when organizing free preventive examinations for the inhabitants of the Sub-Carpathian region. Thanks to cooperation with the Pro-Familia Specialist Hospital in Rzeszów, we were able to once again invite women to perform breast diagnostics. We also addressed the invitation to the research to women employed in Śnieżka and the wives/partners of our employees.
Find out more
Thanks to recommendations sent by our employees, it enables to win of the new, valuable team members over.
Employees whose referrals make the recruitment successful receive a reward for their involvement in the process.
Another benefits:
benefits in the form of points to be used in the cafeteria for any benefits;
additional 2 days of leave per year,
co-financing of a group life insurance,
co-financing for learning English,
the extended scope of examinations in a field of occupational medicine,
subsidized meals,
a private medical care,
discounts on company products in the Company Salon,
an internal auction portal for employees (possibility to purchase products on an auction basis, PC-hardware, the company's cars come from the company fleet, etc.).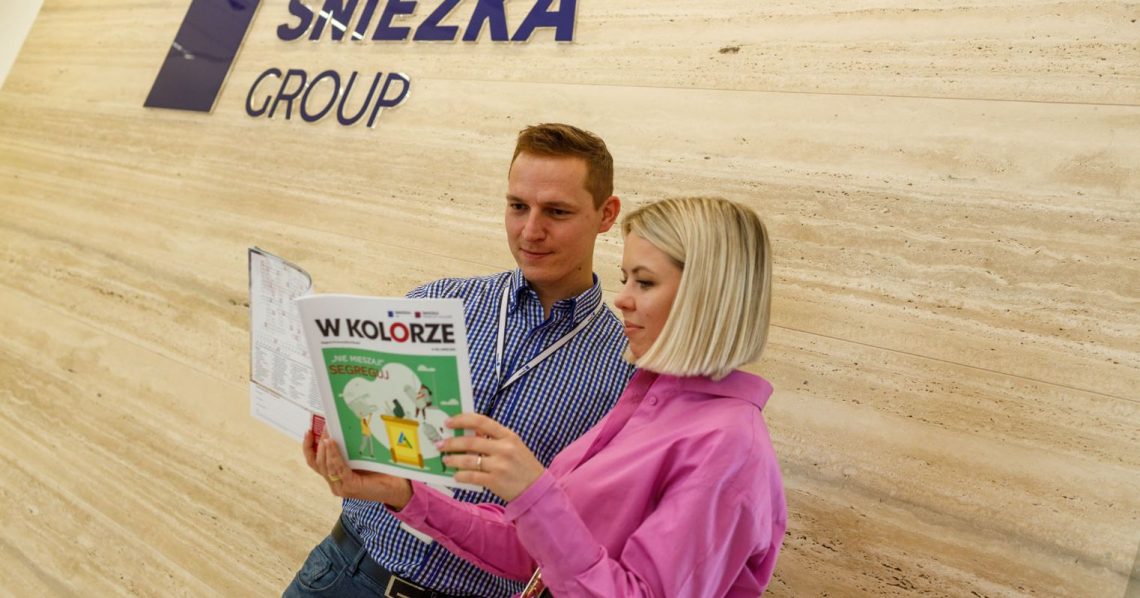 A Spectrum Internship Programme
In the 'Spectrum' programme has been implemented in recent years, we organised three-month paid summer internships dedicated to students and recent graduates. Participants in the programme have the opportunity to put their theoretical knowledge into practice and gain professional experience under the guidance of mentors, in many areas of business.
From the very first days of the traineeship, we involve the participants in our company 'everyday life', we show Śnieżka 'from the inside' – we familiarise them with our values, organisational culture, we ensure participation in product/thematic training, competence testing and development feedback. We want trainees to feel that they are part of our team, to be able to demonstrate their commitment and take responsibility for the tasks at hand.
At Śnieżka, we value open communication – every voice matters to us! From edition to edition, we survey the feelings and expectations of 'Spectrum' participants and we are very pleased with the positive feedback from both tutors and trainees of the three editions of the programme so far. Participation in the 'Spectrum' is not only an opportunity to gain professional experience and skills useful in the labour market, but also a chance for a longer adventure at Śnieżka – proof? Several of our former interns have been today the junior specialists in our team!