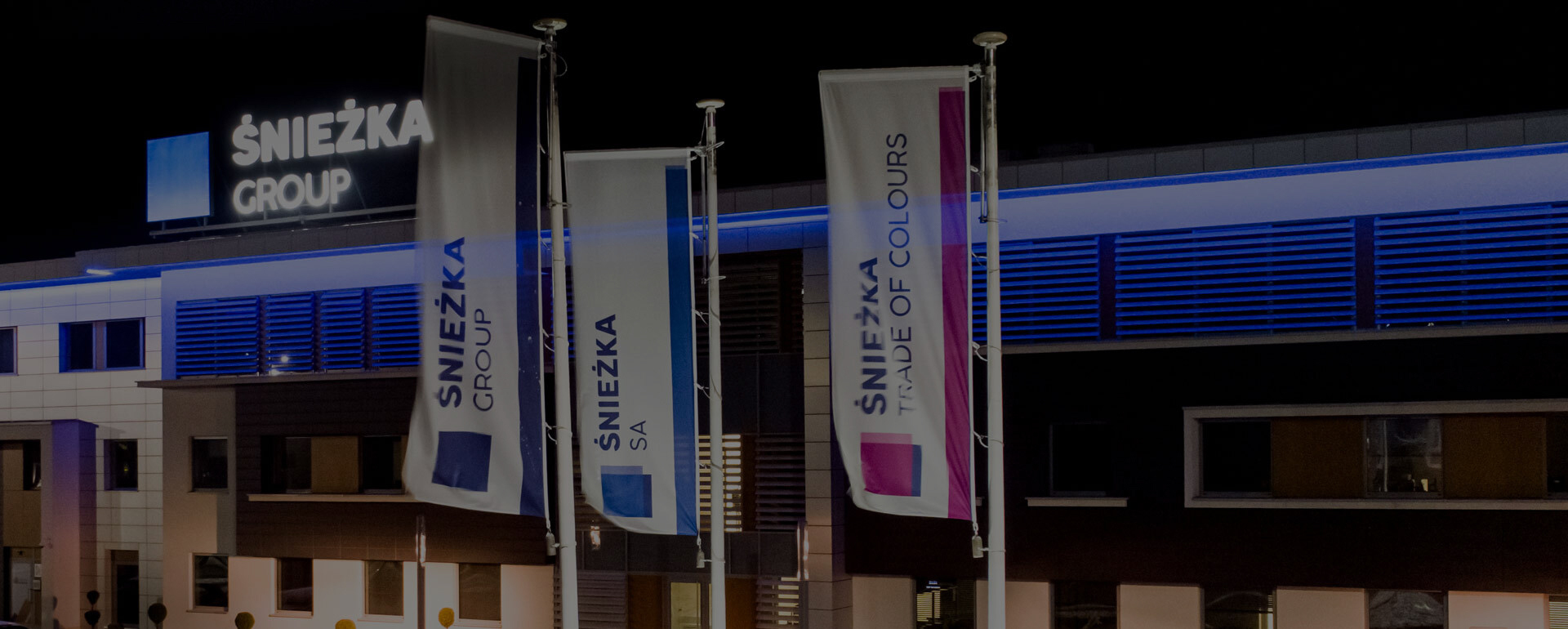 Privacy policy and cookies
1. Who is this Privacy Policy addressed to?
1. Fabryka Farb i Lakierów Śnieżka SA of Warsaw, address: ul. Chłodna 51, 00-867 Warsaw ("Śnieżka SA" or the "Company") pays particular attention to the privacy of the users of our website that is available at www.dekoratorium.pl (the "Website"). If you are using the Website, this Privacy Policy is addressed to you.
2. Who collects your personal data?
1. The controller of the data you provide is Fabryka Farb i Lakierów Śnieżka SA of Warsaw, address: ul. Chłodna 51, 00-867 Warsaw.
2. If you have any questions concerning this Privacy Policy or the processing of personal data in connection with the use of the Website, you can contact us at dane.osobowe@sniezka.com or at our postal address: Śnieżka SA of Warsaw, address: ul. Chłodna 51, 00-867 Warsaw, correspondence address: ul. Dębicka 44, 39-207 Brzeźnica.
3. How is your personal data collected and for what purposes?
1. When you visit the Website, IT data concerning your visit is automatically collected through cookies, including but not limited to:
a. IP address,
b. type of operating system,
c. type of browser.
Visiting our Website does not require you to provide any other information or personal data.
2. All other types of data are collected on a voluntary basis, in other ways, e.g. over the phone, by fax, by e-mail, through the newsletter subscription form, when you make a purchase or use the contact form or the Messenger, and if you share photos with us via social networking platforms, only if you wish to share this data with us, e.g. in order to receive an offer or product advice, including automatic product advice, or to subscribe for the newsletter or make a complaint. Data collected by means of these measures covers the following:
a. first and last name,
b. e-mail address,
c. address of residence of delivery,
d. company data,
e. login,
f. the data necessary to process complaints,
g. Messenger ID,
h. name of profile on a social networking platform.
3. We can collect and then process your personal data for the following purposes:
a. responding to your inquiries (if you call us or write to us with a question concerning an offer and/or ask for an offer to be prepared);
b. marketing of our products (if you are a client of ours, we can process your personal data for marketing purposes when we have a so-called legitimate interest in this respect; on the same basis, we use remarketing tools based on cookies; in the other cases, our marketing activities are based on your consent);
c. sending newsletters – if you have previously accepted the newsletter terms and conditions;
d. processing your complaint – if you have made one;
e. creating a customer account in the Dekoratorium store;
f. carrying out your order placed at one of our online stores;
g. using and sharing your photos from your profiles in social media in connection with the licence granted by you.
4. What are the legal bases for our processing of the collected data?
1. In the case of processing data in order to operate a customer account at the Dekoratorium store, carry out orders, send newsletters, and process complaints, the legal basis for processing is the performance of an agreement for the provision of electronic services and/or an agreement of sale (Article 6.1.b of the GDPR).
2. In the case of processing data in order to provide a response to the correspondence received from you, the legal basis for processing is our legitimate interest (Article 6.1.f of the GDPR) that consists in providing our clients and users with full information and in ensuring that their experiences with the Dekoratorium store are positive.
3. If your data is processed in order to use your photos from your profiles in social media and the license agreement is carried out, the legal basis for processing is the acceptance of the terms and conditions of sharing photos and the carrying out of the licence agreement (Article 6.1.b of the GDPR).
4. If your data is processed for marketing purposes, including but not limited to informing you about the products, promotions, discounts, and additional services, as well as sending (displaying) advertisements that match your preferences, the legal basis for processing is our legitimate interest (Article 6.1.f of the GDPR) that consists in providing you with offers, promotions, and advertisements that you may find interesting, as well as with information concerning our operations.
5. Similarly, if we process your data for analytical and statistical purposes and in order to ensure the security of the Website, we do this on the basis of our legitimate interest (Article 6.1.f of the GDPR) that consists in offering a user-friendly, attractive, and secure website and in optimizing its functioning in order to both carry out our business goals and meet your expectations.
6. If you make legal claims to us or if we make legal claims to you, the legal basis for the processing of your data is our legitimate interest (Article 6.1.f of the GDPR) that consists in exercising or defending legal claims.
7. When we process your personal data by means of cookies and other similar technologies for marketing purposes, in order to send you advertisements that match your preferences, analyse your activity, and improve the functionalities we use, as well as for statistical purposes, we do this on the basis of our legitimate interest (Article 6.1.f of the GDPR), provided that you have consented to the use of cookies, in accordance with the provisions of the Polish Telecommunications Law.
8. Your data will also be processed in order for us to comply with our obligations resulting from legal regulations (Article 6.1.c of the GDPR), such as the obligations specified in tax regulations.
5. For how long is your data stored and processed?
1. If you send us an inquiry using the contact form, your personal data is stored and processed for the time necessary to provide you with an answer and solve your problem.
2. If you make a purchase at our online store, your data is stored and processed until we are no longer legally bound (under the Polish Accounting Law and tax regulations) to process your data and until claims related to the agreement executed with the store can no longer be made by any of the parties.
3. If you subscribe to our newsletter, your data will be stored and processed until you have resigned from receiving newsletters from us.
4. If you make a complaint, your data will be stored and processed until we have resolved your case, not longer than until the lapse of the prescription periods for legal claims, as specified in the applicable legal regulations.
5. When we process personal data for marketing purposes, your data will be processed until you have objected to such processing, and in the case of cookies-based marketing, until you have withdrawn your consent to the use of cookies.
6. Please remember that you can always write to us at dane.osobowe@sniezka.com to have your personal data erased.
6. How is data collected on the Website and through newsletters, the contact form, the customer account, and the Dekoratorium store?
1. If you subscribe for newsletters and accept the terms and conditions of their distribution, we only need you to provide us with your e-mail address to which we should send the newsletters and to tick the checkbox confirming that you have accepted the terms and conditions.
2. You can cancel your subscription at any time by clicking the unsubscribe button located in the footer of each of the newsletters.
3. In order to learn which of the contents of our newsletters you read and which you do not find interesting, we use the Sales Manago and SAP Marketing Cloud programs that allow for analysing this data. Information concerning the processing of personal data within the Sales Manago solution is available at http://pomoc.salesmanago.pl/dokumentacja-z-zakresu-ochrony-danych-osobowych/, while information concerning the processing of personal data within the SAP Marketing Cloud solution is available at  https://www.sap.com/poland/about/legal/privacy.html.
Your personal data collected in the above way is not shared with other entities, except for the company that administers our Website and the companies that operate servers for the above purposes.
4. If you would like to contact us via the contact form, we only need your e-mail address and the content of your inquiry.
5. If you send us an inquiry or an offer, we will process your data exclusively in order to provide a response.
6. If you want to contact us on Messenger, we only need your name and your Messenger ID. In order to automatize our responses, we use the Chatfuel program, which does not limit you in contacting our consultants. Information concerning the processing of personal data by the Chatfuel program is available at https://chatfuel.com/PrivacyPolicy.pdf.
7. If you want to make a purchase at our online store, we will need your first and last name, e-mail address, shipping address, and telephone number.
8. Furthermore, if you decide to register in our store, we will process and store your login.
9. If you grant us a licence to use the photos uploaded to your profiles in social media, we will process your data (first and last name and the name of your profile on the given social networking platform) using the FLOWBOX tool. Information concerning the processing of data by FLOWBOX is available at https://getflowbox.com/privacy/ 
10. For analytical purposes, we also collect the data concerning your history of purchases.
7. Who will your data be shared with?
1. If this is necessary to carry out the above activities, your data may be shared with other entities. In this case, data may be shared only with our consent, on the basis of an agreement, and only with persons and entities that guarantee that your data will be properly protected and processed in accordance with legal regulations. These entities process the data shared with them in accordance with our instructions and on our behalf. This means that your personal data is shared with:
a. the company that administers our Website;
b. the hosting company that provides space for our Website on its servers;
c. the IT company that maintains a backup copy of our Website;
d. delivery companies;
e. the company that carries out analyses and sends the newsletter;
f. companies that are responsible for marketing our online store, including FLOWBOX AB;
g. law firms – when we take actions intended to exercise or defend our legal claims.
2. In special cases, i.e. where we cooperate with global concerns such as Google Inc. or Facebook Inc., your personal data may be transferred outside of the European Economic Area. In the case of the above entities, including when we use Google Analytics and Google Ad Manager (formerly: Double Click), as well as Chatfuel and Messenger, data is transferred on the basis of the relevant agreements. These agreements are based on the standard contractual clauses published by the European Commission in accordance with Article 46.2.c of the GDPR. A copy of the standard contractual clauses may be obtained from the Data Protection Officer.
8. Access to your personal data. Withdrawal of consent to receiving commercial information 
1. Please remember that you can access your personal data at any time. You can receive, free of charge, a copy of your personal data in our possession.
2. Furthermore, you can always receive from us information concerning:
a. the purposes for which your data is processed;
b. the type of data we process;
c. who we share your data with;
d. the period for which we are planning to retain your data.
3. You have the right to:
a. rectify your data;
b. erase or limit the processing of your data if we no longer need it for the purposes for which you provided it to us, if you withdraw your consent to processing it, or if you object to the processing of your data for marketing purposes.
4. You may also object to your personal data being processed for marketing purposes at all.
9. Final provisions
1. The principles laid down in this Privacy Policy are governed by the laws of Poland.
2. You can always file a complaint concerning the way we handle your personal data. The complaint should be lodged with the President of the Polish Personal Data Protection Office.
3. This Privacy Policy and the Cookies Policy displayed below come into effect on 01/01/2022.
1. What are cookies?
1. The Website does not collect any information in an automated manner, except for the information contained in cookies.
2. Cookies are IT data, in particular in the form of text files, stored on the Website user's end device and intended to optimize the use of the Website. Cookies usually contain the name of the website from which they originate, the time for which they are stored on the end device, and a unique number.
3. The entity placing cookies on the Website user's end device and having access to them is the operator of the Website, Śnieżka SA of Warsaw (address: ul. Chłodna 51, 00-867 Warsaw, Mazowieckie Province), as well as the entities described in this Cookies Policy, below.
2. How is data collected automatically? 
1. Cookies allow us to remember and check your preferences. This makes it possible for us to improve your search results and make sure that the information displayed to you is exact.
2. Cookies do not modify or change the settings of your device or the software that is installed on that device.
3. Please remember that you have the right not to agree for us to send you specific types of cookies. No consent is necessary with respect to the use of cookies that are required for proper functioning of the Website.
4. The data that is automatically collected by cookies will be used by us to analyse user behaviour on the Website and collect demographic data about users, which allows us to adjust the contents of the Website and display information concerning the Company on the other websites you visit. If you do not agree to such a personalization of content, please tick the relevant checkboxes on the banner showing consents concerning cookies that is displayed when you enter the Website for the first time or change the settings of your browser. You can also write to us at any time at dane.osobowe@sniezka.com and we will try and help you.
5. In the case of the cookies we use for analytical purposes that have been created by third parties such as Google – the cookies of Google Analytics and Google Ad Manager (formerly: Double Click) – we use anonymization and pseudonymization with respect to the data that may be contained in these files. This way, your personal data is not shared with Google in a way that could enable it to identify you on the basis of cookies.
6. Cookies are used to: adapt the contents of the Website to user preferences and optimize the use of the Website; in particular, these files allow for recognizing the user's device and displaying the Website accordingly, in a manner adapted to the user's individual needs; compile statistics that help us understand how Website users use our Website, which allows for improving Website structure and contents; continue the Website user's session (after logging in), which means that the user does not have to enter his or her login and password on each page of the Website.
3. What types of cookies are used on the Website? 
1. The Website uses two main types of cookies: session cookies and persistent cookies. Session cookies are temporary files that are stored on the user's end device until he or she logs out, leaves the website, or turns off the software (browser). Persistent cookies are stored on the user's end device for the time specified in their parameters or until they are deleted by the user.
2. Furthermore, cookies used by the Website can be divided by means of the following criteria:
1) necessity of service provision:
a) necessary: cookies that are absolutely necessary for the correct functioning of the website or functionality the user wishes to use – their use does not require consent from the user;
b) functional/preference: cookies that are intended to ensure a high level of the website's functionality; without the settings stored in these cookies, the functionality of the website may decrease, but it should not completely prevent the use of the website; these cookies collect information about user preferences and allow us to remember the language and other local settings and, consequently, properly adjust the website – their use requires consent from the user;
c) statistical: cookies that are used to collect information about the user's activity on the website and allow for optimizing the functioning of the website; furthermore, they may provide information about the websites the user visits most often and help identify inconveniences or problems, as well as confirm the efficiency of the advertisements used; these cookies allow for tracking the patterns of website use by multiple users and not just single visitors – their use does not require consent from the user if they do not process personal data;
d) marketing: cookies that are used to adjust the advertisements displayed to the user; as a result, the advertisements displayed both on external websites and on the operator's website correspond to the interests of the users in terms of the services selected and are based on the data held by the operator, including in terms of user behaviours on the websites owned by the Website operator – the use of these cookies requires consent from the user;
2) origin of the files:
a) own: cookies placed directly by the owner of the visited website;
b) external: cookies placed by external entities whose website components have been called up by the website owner;
3) purpose:
a) website configuration: cookies that allow for setting functions and services on the website;
b) website security: cookies that allow for verifying the authenticity and optimization of the website;
c) authentication: cookies informing that the user is logged in, which allows the website to provide the relevant information and functions;
d) session status: cookies that allow for recording information about how users use the website; this information may concern the websites the users visit most often or the potential error messages displayed on some pages; the cookies used to save the session status help improve services and increase the comfort of viewing websites;
e) carrying out of processes: cookies that enable efficient functioning of the website and the functions it offers;
f) displaying advertisements: cookies that allow for displaying advertisements which the users find more interesting and which, at the same time, are more valuable for publishers and advertisers; these cookies also allow for personalizing advertisements; they can also be used to display advertisements outside of the website (domain);
g) location: cookies that allow for adjusting the information that is displayed to the location of the user;
h) statistics: cookies that allow owners of websites to better understand the preferences of users and improve their products and services through analysis. This data is covered with anonymization and pseudonymization.
3. A detailed description of cookies and their properties is presented in the table included in the banner concerning consent to cookies, which is displayed to the user of the Website when he or she first opens the Website in his or her browser.
4. What cookies of external entities do we use on the Website and how do these cookies work?
A. Google Analytics (cookies) – a tool for analysing website statistics
1. Google Analytics uses cookies to analyse the sources of traffic and the way in which users use the Website.
2. Google stores on its servers the data collected thanks to placing cookies on users' devices and uses this data to produce reports and provide other services related to online traffic and using the Internet.
3. Google may also share this information with third parties if obliged to do so under legal regulations or if these third parties process such information on behalf of Google.
4. This data is used only for the purpose of statistical analysis and in mechanisms that correct system errors, which means that none of the data from cookies is in any way combined with the other data you share with us.
B. Google Ad Manager and Tag Manager
1. Google Ad Manager and the Google Marketing Platform advertising services (Display & Video 360, Search Ads 360, and Campaign Manager) use cookies in order to improve the efficiency of advertisements. Typical uses includes targeting advertisements on the basis of the topics the user finds interesting, improving reports on the efficiency of advertising campaigns, and avoiding advertisements the user has already seen.
2. The Google Tag Manager is a system for managing tags, which allows for quick and easy updating of tracking codes and the related fragments of code, i.e. tags, on a website or in a mobile application. After adding a small of fragment of Tag Manager code to a project, you can easily and securely implement settings in terms of analytics and measurement tags, using an online user interface.
3. A collection of tags, rules, variables, and the related configurations installed on the given website or in the given mobile application is called a container. A Tag Manager container may replace other, manually coded tags on a website or in an application, including Google Ads and Google Analytics tags.
4. Cookies alone do not contain information that allows for identifying the given person. Depending on the settings of the publisher and the user, information related to the cookies used in advertisements may be added to the user's Google account.
5. Google Ad Manager and the Google Marketing Platform advertising services send cookies to the browser after any view, click, or another operation that results in establishing a connection with our servers. If the browsers accepts the given cookie, the cookie is stored in the browser.
6. The cookies of Google Ad Manager and the Google Marketing Platform advertising services are most often sent to the browser when the user enters a website that displays advertisements coming from Google Ad Manager or from the Google Marketing Platform advertising services. These websites contain advertising tags that inform the browser that it should request our servers to provide access to the advertisement. Together with the advertisement, our server sends a cookie file. For this to happen, the website does not have to display advertisements coming from Google Ad Manager or the Google Marketing Platform advertising services. It is enough if it contains the advertising tags of Google Ad Manager or the Google Marketing Platform advertising services – these tags may launch the tag for tracking clicks or the pixel for tracking views. More information about this tool is available at https://support.google.com/admanager/answer/2839090?hl=en.
C. SALESmanago
1. Another tool that supports marketing activities by means of analysing user activities on the Website and allows for displaying behavioural ads based on user behaviours. This tool also allows for analysing and supporting activities based on e-mail marketing, once the user has subscribed to a newsletter. More information about the functioning of this tool is available at https://www.salesmanago.pl/info/rodo.htm.
D. Criteo
1. A tool for dynamic and static retargeting, i.e. activities that allow for displaying to the user an ad of the Controller after the user has left the Website. Information about the functioning of this tool and the related data processing is available at https://www.criteo.com/privacy/.
5. Final provisions
1. The Website operator hereby informs that restricting the use of cookies may affect some of the functionalities of the Website.
2. More information about cookies is available at www.wszystkoociasteczkach.pl or in the "Help" section of your browser's menu.
The personal data controller is:
Fabryka Farb i Lakierów Śnieżka SA
ul. Chłodna 51, 00-867 Warsaw,
Mazowieckie Province.
Correspondence address:
ul. Dębicka 44, 39-207 Brzeźnica, Podkarpackie Province
Amendments to the Privacy Policy and the Cookies Policy
The administrator reserves the right to amend the Privacy Policy and the Cookies Policy at any time, without the need to inform the users. The Clients are required to familiarize themselves with the amendments after entering the Website.